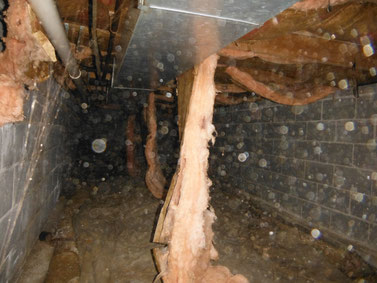 Here we have a crawlspace in a Pinckney, MI home.  Put aside for a moment the obvious fact that the insulation is literally falling out of the joist cavities.  The real defect here is that the insulation was installed improperly to begin with... upside down!
I know, at first look it would seem natural to face the nice, smooth, shiny kraft faced side toward the crawlspace.  It just seems more 'finished'.  Heck, they even give you handy little paper ears to make stapling a breeze.  The itch factor seems lessened by installing it this way also.
Alas, it just isn't so: fiberglass batt insulation is designed for the paper side to face the heated space of the home.  Kraft paper contains a special layer of asphalt adhesive.  This acts as a vapor retarder, preventing water vapor from passing through.
In an upside down installation, where the paper faces the unheated portion of the home, moisture from the humid inside air can condense and become trapped inside of the insulation during cold winter months.  This will likely result in fungal growth (mold) and rot.
If your crawlspace looks like this, fear not!  It is one of the most common defects that I come across and can easily be fixed.  If you decide to take it on yourself, don't forget an appoved respirator, gloves, and long sleeves. Fiberglass should not be inhaled and contact with skin can turn unpleasently itchy!
The Department of Energy has some pretty good resources if you'd like to find out more about insulating your  home:
 http://energy.gov/energysaver/articles/insulation